Contact Details
Email (gabriele@gabrieles.com.au) is often the most effective method to get in contact with us as we are regularly in appointments with clients. Alternatively, please use the Contact Us form on this page to send us your enquiry.
You can also call during business hours and speak with a member of our team however if we are with clients at the time please leave your details (full name, phone number and email address) and we will return your call as soon as possible.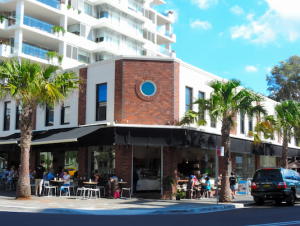 Our office is located at Suite 11 (upstairs), 17 Gerrale Street, Cronulla.
The glass entrance door is located on Ocean Grove Avenue, just to the right of the café (Ham). Cronulla train station is only a short walk away, and there is free on-street parking available.
### Gabriele's is currently closed while I enjoy a trip to Tasmania. We will re-open from Monday 25 February 2019. Appointments and valuations will not be available during this time and all emails will be responded to on my return. Many thanks for your understanding. Kind regards, Gabriele ###
Gabriele's Philatelic Service
Phone: + 61 2 9544 3333
Email: gabriele@gabrieles.com.au
Postal: PO Box 775, Cronulla NSW 2230 Australia
Office: Suite 11 / 17 Gerrale Street, Cronulla NSW 2230 Australia (by appointment only)
ABN: 91 064 957 384
We are open by appointment only during the following hours:
| Days | Opening Hours |
| --- | --- |
| Monday | 10am to 5pm |
| Tuesday | Closed |
| Wednesday | 10am to 5pm |
| Thursday  | 10am to 5pm |
| Friday | 10am to 5pm |
| Weekends and Public Holidays | Closed |
Valuations
For valuations please first contact us to make an appointment to ensure we allow adequate time to look at your collection. We may also ask that you send us through some photographs of your stamps so that we can gauge what it is you will be bringing to us. Appointments are available during our operating hours and on some weekends by special arrangement.
Contact Us Form
### Gabriele's is currently closed while I enjoy a trip to Tasmania. We will re-open from Monday 25 February 2019. Appointments and valuations will not be available during this time and all emails will be responded to on my return. Many thanks for your understanding. Kind regards, Gabriele ###