LATEST SPECIALS – STAMP ACCESSORIES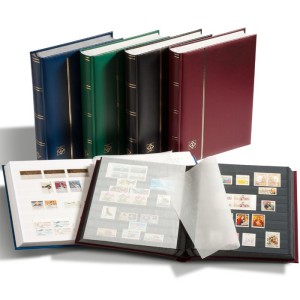 ### Free delivery on all orders over $200 within Australia ###
Lighthouse Stockbooks
PREMIUM with Slipcase (A4 size, Assorted colours)
Padded leather cover, clear strips (9 per page) and double clear interleaves, Slipcase included.
– Black pages, 64 pages: SALE PRICE $115.00 (recommended retail: $135.00)
COMFORT (A4 size, Assorted colours)
Padded leatherette cover, clear strips (9 per page) and double glassine interleaves.
– White pages, 64 pages: SALE PRICE $70.00 (recommended retail: $79.95)
– White pages, 32 pages: SALE PRICE $40.00 (recommended retail: $45.95)
– Black pages, 64 pages: SALE PRICE $75.00 (recommended retail: $87.95)
– Black pages, 32 pages: SALE PRICE $42.50 (recommended retail: $49.95)
BASIC (A4 size, Assorted colours)
Hard cover, clear strips (9 per page) and double glassine interleaves.
– White pages, 64 pages: SALE PRICE $65.00 (recommended retail: $74.95)
– White pages, 32 pages: SALE PRICE $35.00 (recommended retail: $39.95)
– White pages, 16 pages: SALE PRICE $19.00 (recommended retail: $21.95)
– Black pages, 64 pages: SALE PRICE $70.00 (recommended retail: $79.95)
– Black pages, 32 pages: SALE PRICE $38.00 (recommended retail: $43.95)
– Black pages, 16 pages: SALE PRICE $25.00 (recommended retail: $28.50)
Lighthouse Complete Album
Australia (1913-1965, pre-decimal)
SALE PRICE $320.00 (recommended retail: $349.95)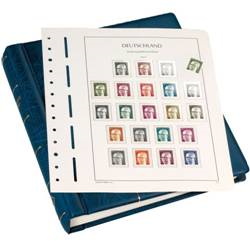 Developed with the assistance and advice of senior stamp dealers within Australia the album for pre-decimal Australian stamp issues covers the series Kangaroos 1913/45, King George V 1913/35, King George VI 1927/1952, and Queen Elizabeth II 1953-1965. The pages have provision for the complete range of the Kangaroo and George V period issues, all correctly captioned underneath as to year, watermark, colours, and the variations in accordance with the catalogue numbering system of Stanley Gibbons and Michel. A front title page bearing the Australian Coat of arms is also included in the album. Layout of each page has been designed for easy identification of all issues with superior printing coupled with the use of modern computer techniques on stamp images. Definitive and commemorative issues are on separate pages. Provision has also been made for a page covering the 1964/65 helicon issues. This special offer includes a red Perfect turnbar binder. Slipcase included.
Stockbooks, binders, mounts, catalogues, supplements, stockcards, hanger and vario sheets, hinges, tongs (tweezers), magnifying glasses, UV lights, perforation gauges…
Lighthouse, Seven Seas, Stanley Gibbons, Renniks…
At Gabriele's we stock all of the leading brands and regularly have new items arriving. Whatever you are after please contact us first as we regularly source products well below recommended retail prices.