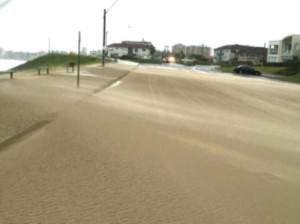 GREETINGS FROM NOT SO SUNNY CRONULLA – STAY SAFE EVERYONE
This photo was taken on 21 April and should show the road that runs alongside Elouera Beach… not the road that became an extension of the beach!
Some amazing stamps have arrived on my desk this month, including some superb British Commonwealth items as well as nice unmounted KGV. These have been tucked away in a couple of old time collections and beautifully stored. Available now at prices that will certainly please you the buyer!
Click here to view the latest specials on offer this month from Gabriele's (On Sale Now # 199, April 2015). Enjoy, Gabriele