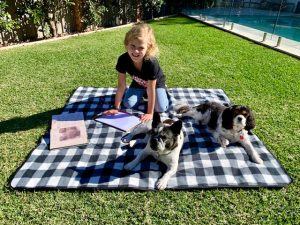 HAPPY BIRTHDAY TO TWO SPECIAL GIRLS THIS MONTH!
This month two very special birthdays are celebrated in my family – my granddaughter, Scarlett, pictured with her two favourite puppy dogs, along with my daughter, Nicky, who is celebrating a rather big birthday but is refusing to let me share a picture (given she helps me post these online I'm trapped!)
This list contains some amazing gifts – not for the girls, sadly they are not stamp collectors.
To view this month's On Sale Now and check out our great August specials please click here.
Enjoy, Gabriele